BUSINESS
Further Leap Forward !
With a proven performance in the mission critical applications for a quarter century and technical expertise,
Storage Vision will continue to provide reliable products with long time supply commitment.
High Quality
Provide a consistent development of electrical, mechanical and firmware design and afetr sale support by ourselves.
Stable Supply
For mission critical applications, life cycle management is one of the key issues. To suppot such kind of long life. we commit to supply products and service parts as long as possible.
Change management is also in practice.
Outstanding Customer Set
Good track record in the mission critical industries, such as semiconducto manufacturing, finance and medical equipment and systems for social infrastructures, such as power & water
Customer's Applications
Semiconductor MFG Equipment
Before
In case of single disk

● Production & Delivery delay
● Important Manufacturing Parameter loss
After
In case of MMirror Drive

● 24 hous x 365 days continuous operation
● Ease of Maintenance
● Cope with Customization reuest
Medical Equipment
Before
In case of single disk

● Important ClientS7 data lost
● Clients Inspection schedule impact
After
In case of MMirror Drive
● 24x365 Non-stop Operation
● Ease of Maintenance
● Hospital & Medical equipment maker's Reputation
Advantage of Mirror
Complete hardware mirroring with ATA interface
● OS independent, with no device driver required.
● Recognized as a single drive from host computer
● No additional burdon on host system by the specialized mirror controller
A Quarter century accumulated mirror technologies
● Realized additional reliability with several key features(Background Retry, Revival Reconstruction, Background Data Reconstruction, etc)
● Ease of Maintenance (LED indication, Buzzer, Status monitoring software)
● Cope with Customization by development engineer's involvement.
Superb Serviceability
● In case of problem, only a failed drive needs to be replaced and Data is rebuilt automatically. During data rebuilding, priority is given to host access.
Comparison Storage Vision vs Others
Storage Vision Mirror

OS independent completely.From host system, a Mirror Drive is recognized as a single drive.Since all mirroring operation is handled by mirror controller, no additional burdon on host system and realized "ease of Maintenance".
Others Mirror

Since host system must take care of above dotted tasks of mirroring, additional burdon is required. The performance and reliability is OS dependent and need additional workload for certification in case of OS update.
How to embed Mirrror Drive /
Card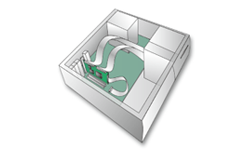 Mirror CardPut into the PCI Slot to realize hardware mirror.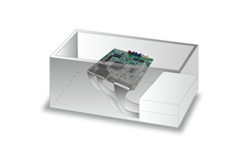 Miror cardFabiricated into the box customer designed to realize space efficiency.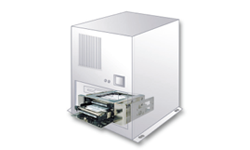 Mirror DriveJust fit in 5.25-inch Open Bay with hot swap capability.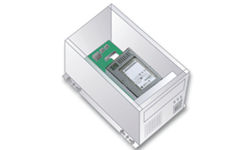 Mirror DriveJust replace conventional 3.5-inch HDD with a Mirror Drive.